The tuberculin test
The intradermal tuberculin reaction test is used for the detection and prevention of tuberculosis.
It is done in 2 steps:
1. Application of a small intradermal injection to the forearm.
2. Reading of the reaction which must be done between the 3rd and 5th day after application.
During your visit to the Medico-social Centre, bring your social security legitimation card, your vaccination card and your radiological booklet.
When you take the test in one of these centres, you will be informed of the result of the reading: a negative reaction means that your body has not produced any antibodies and that you have probably never come into contact with the tuberculosis bacillus. A positive reaction does not mean that you have the tuberculosis disease, but that your body has produced antibodies either by contact with the bacillus or by vaccination (B.C.G.). A safety X-ray is indicated if the test is positive.
Consultations for tuberculin tests :
Please find below the place, day and time of your "Tuberculin Test" consultation, selecting the nearest centre: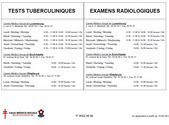 Opening hours